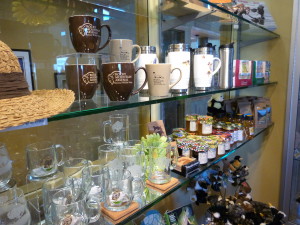 Do you love our Refuge and bison and bald eagles and prairie dogs? Come to Nature's Nest and buy beautiful gifts for young and old! We have a great selection of children's nature books and birding books. We have hats, shirts, cups, and more to show your support and love of our amazing Refuge! Come explore all we have to offer! The gift store is open Wednesday through Sunday from 9:00am-4:00pm.
Love Nature and our Refuge – Please volunteer at Nature's Nest! You will share your love and knowledge of nature while supporting a cause that matters.
Nature's Nest Books and Gifts is managed by the Friends of the Front Range Wildlife Refuges and is located inside the Rocky Mountain Arsenal National Wildlife Refuge Visitor Center. Proceeds support Refuge programs, volunteers and environmental education for kids.
The gift shop has a variety of nature and guide books, hands-on nature activities and games for kids, unique seasonal gifts, art and jewelry, snacks and beverages, and specialty food made in Colorado.
At Nature's Nest, you can buy a FFRWR membership and purchase tickets for FFRWR events.
The gift store is open Wednesday-Sunday from 9:00am-4:00pm and can be reached by calling 303-289-0820.