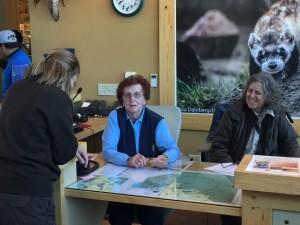 Every fall we gather at the Pat Schroeder Visitor Center at the RMANWR to celebrate our wonderful National Wildlife Refuges and the people who make them even better. Special thanks in 2017 go to Diane Buell Volunteer of the Year, and Arbor Family Medicine, Corporation of the Year! And more thanks go to the many donors, attendees, and volunteers who make our annual celebration and fundraising dinner a success.
In 2017, we raised more money than ever to help our beloved Refuges. The proceeds from our dinner go to paying for buses to bring low-income youth to the Refuge on school field trips, supplies for environmental education, and support of the wonderful volunteer program at the Refuges. Please join us in the fall of 2018!
Enjoy these photos from the 2017 event!