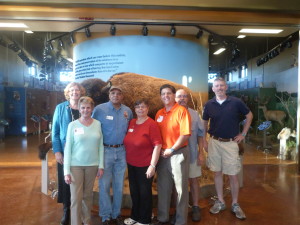 Our group is one of about 200 across the nation that supports local national wildlife refuges. Our members come from all walks of life to enjoy and promote our refuges. Our members also have access to training and networking offered through national conferences for friends groups.
Our group is led by a board of directors with diverse environmental, educational, business and community expertise. Our board members include:
René Bullock, President
David Pocs, Vice President, Events Committee, LPL Financial Advisor
Rachel Crouch, Secretary, Executive Director, Bluff Lake
Kate Kramer, Treasurer, GoWild NEMC
Carolyn Boller, Events Committee Co-Chair, Retired
Kip Cheroutes, LXC Strategies, Inc.
James Jacobs, Higher Education Policy at Colorado Mesa
FFRWR Staff:
Mallory Gonia, Manager, Nature's Nest
Volunteer of the Year Award
Every year we give the FFRWR Volunteer of the Year award. For 2016, Betty Pepin received the award for her years of service on the FFRWR Board of Directors and for her service to Nature's Nest. For 2017, Diane Buell received the award for her many hours of volunteer service to the RMANWR. In the fall of 2017, Reba Drotar received recognition for her role as co-founder of the Nature's Nest – the wonderful store located in the Pat Schroeder Visitor Center, at the Rocky Mountain Arsenal National Wildlife Refuge. In the fall of 2018, long-time volunteer, Gary Beasley, received the Volunteer of the Year Award!