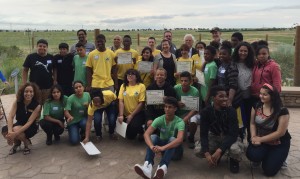 The vision of the Northeast Metro Coalition is that every young person – wherever they live and regardless of resources – has abundant opportunities to connect and engage with the outdoors in ways that are inspirational, transformational, and meaningful to them and will cultivate a new generation of stewards of nature.
In 2018, the FFRWR became the host of a major grant from Great Outdoors Colorado (GOCO) Generation Wild grant program (https://generationwild.com/), the Generation Wild Northeast Metro Coalition (Generation Wild NEMC). Five governments and seven nonprofits work together to provide opportunities for youth to get outdoors and to pursue jobs and careers in the outdoors.
The Generation Wild NEMC report is available here. Go to the Generation Wild NEMC web site for more information: https://www.generationwildnemc.org/
Every week in four neighborhoods surrounding the RMANWR, youth get to enjoy and work in the outdoors. Northwest Aurora, Montbello, Northeast Park Hill, and Commerce City youth go rock climbing, snowboarding, hiking, and learn about the environment from the Generation Wild teams.

The Generation Wild government partners are:
Aurora Parks, Recreation and Open Space
Commerce City Parks, Recreation, and Golf
Denver Parks and Recreation
Barr Lake State Park
US FWS at Rocky Mountain Arsenal National Wildlife Refuge
The Generation Wild nonprofit partners are:
Boys & Girls Clubs of Metro Denver
Bluff Lake Nature Center
Environmental Learning for Kids (ELK)
Groundwork Denver
Mile High Youth Corps
Sand Creek Regional Greenway Partnership
The Urban Farm
FFRWR is proud to help fulfill the mission of Generation Wild NEMC.
For more information, contact Kate Kramer, Manager, kkramer@generationwildnemc.org.