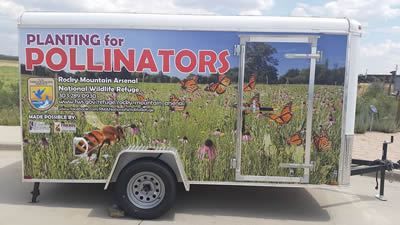 The FFRWR is part of a national movement to support National Wildlife Refuges across the USA. These "Friends" groups raise much-needed funds for education programs, habitat restoration, community partnership, and special outreach events. Here is the report on the many successes of the Friends groups across the country.
What has the nonprofit organization, Friends of the Front Range Wildlife Refuges, accomplished in 2020 and 2021?

Every year, we buy nature supplies for environmental education programs. We fund American Sign Language interpreters for special programming. We support the annual volunteer luncheon to thank the wonderful Refuge volunteers and much more!
We get youth into the outdoors! The FFRWR is part of the Generation Wild Northeast Metro Coalition of three cities, seven nonprofit organizations, and state and federal agencies that received $2.7M in grant funding to get more youth into the outdoors. Funding for the FFRWR will bring students from the four target neighborhoods (Commerce City, Northeast Park Hill, Montbello, and Northwest Aurora) to the RMANWR on school fields trips for free (all transportation costs covered by the grant). For more information see: http://www.goco.org/news/goco-names-first-6-pilot-communities-25m-inspire-initiative-get-more-kids-outdoors-more-often
Several years ago, we raised the funds to purchase the Pollinator trailer for the FWS, which travels to schools in our regions to educate youth about pollinators! We have new and exciting books, pins, clothing, etc. in the Nature's Nest store.