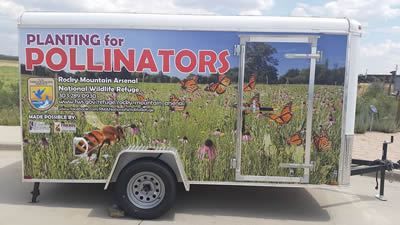 The FFRWR is part of a national movement to support National Wildlife Refuges across the USA. These "Friends" groups raise much-needed funds for education programs, habitat restoration, community partnership, and special outreach events. Here is the report on the many successes of the Friends groups across the country.
What has the nonprofit organization, Friends of the Front Range Wildlife Refuges, accomplished in 2022 and 2023?
Every year, we buy nature supplies for environmental education programs. We bring raptor programs and zoo and farm animals to the Visitor Center for special programming. We support the annual volunteer luncheon to thank the wonderful refuge volunteers and much more!
We get youth into the outdoors! The FFRWR hosts the Generation Wild Northeast Metro Coalition of three cities, seven nonprofits, and state and federal agencies that receive grants from the Colorado Lottery funded Great Outdoors Colorado. Funding brings students from the four target neighborhoods (Commerce City, Northeast Park Hill, Montbello, and Northwest Aurora) to the refuge and supports the Spanish language Wildlife Drive program and the annual GoWild In Your Park/Refuge Day community event in the fall. For more information see: https://www.generationwild.com/
For wonderful ideas about what to do with your kids outdoors, check out the Generation Wild's list of 100 outdoor activities, your path to fun all year round — from your backyard to the backcountry. Click here for the English PDF or here for the Spanish PDF.
FFRWR plays a critical role in educating the community about the critical role the refuge plays in wildlife and habitat protection and community engagement. Recently designated as a Flagship Urban Refuge, the Rocky Mountain Arsenal follows these US FWS Standards (https://www.fws.gov/media/urban-wildlife-conservation-program-standards-excellence)
The future success of conservation lies ultimately in our ability to inspire Americans to connect with the outdoors and nature, and to become stewards of the environment. Americans are spending less time outdoors and are becoming more ethnically and racially diverse. With more than 80% of Americans now living in urban areas, our challenge is to become relevant in their daily lives. Without public awareness and support, our conservation mission will not succeed.  The Urban Wildlife Conservation Refuge Program follows these eight standards of excellence that serve as a framework for collaboration among the U.S. Fish and Wildlife Service and local communities:
Know and relate to the community.
Use stepping stones to engage people in nature.
Build partnerships.
Be a community asset.
Ensure adequate long-term resources.
Provide equitable access.
Ensure visitors feel welcome and safe.
Model sustainability.