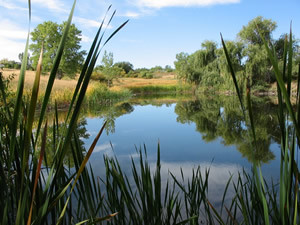 Two Ponds National Wildlife Refuge Two Ponds National Wildlife Refuge, located in Arvada, Colorado, is the smallest urban refuge in the country and part of the Rocky Mountain Arsenal National Wildlife Refuge complex.
Two Ponds National Wildlife Refuge serves as an oasis for wildlife and people throughout the Denver Metro area. It covers over 72 acres – 63 acres of uplands, 9 acres of wetlands, and 3 small ponds – which contain various species of native flora and fauna and hosts over 120 species of birds and a variety of mammals, reptiles, and amphibians.
The setting was once characterized by plant communities of the High Plains – short-grass and mixed-grass prairie – however, livestock grazing and plowing of prairie sod for crops by European settlers altered the native plant and animal environment.
More recently, housing developments and urbanization have decreased the land available for native wildlife. As a result, a local citizen's group worked to save this site from development. Their efforts helped contribute toward the establishment of Two Ponds NWR in 1992. Each year, thousands of visitors enjoy wildlife-dependent recreation on the Refuge while developing a greater appreciation and awareness for conservation; and more plants and animals have a natural home.
For a list of upcoming free nature programs visit www.fws.gov/twoponds.
Get involved! Join the Two Ponds Preservation Foundation! https://www.twoponds.org/
Two Ponds NWR
9210 W. 80th Avenue
Arvada, CO 80005
Hours: West side – dawn to dusk; 7 days a week
East Side – October to April (closed for winter)